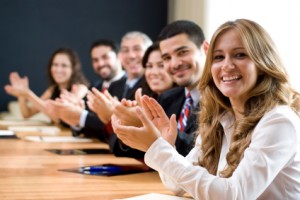 The ability to lead others—through change initiatives, high profile organization improvement projects, and day-to-day activities—is key to fully achieving your organization's goals and objectives and maximizing performance.
If you find your organization does not always 'hit the mark' when it comes to meeting goals and objectives, it may mean that your managers, supervisors and/or employees do not have the skills they need to effectively communicate effectively when it's time to solve problems or make important emotional intelligence decisions.
High Performance Learning introduces your team to the skills and techniques they need to communicate with others to overcome obstacles, build consensus, and promote a positive, high-performing environment with our organization improvement solutions.
Do unresolved conflicts escalate?
Change and conflict go in hand-in-hand. To stay competitive, organizations need to drive change, while simultaneously managing the potential negative consequences. Managing and resolving conflict constructively is a critical competency for every person inside and outside of today's workplace.
HPL helps our clients address both communication and conflict challenges in order to improve performance. Our process improvement programs and services include:
Enhance your communications skills to motivate others and foster a high-performance environment.
A highly interactive and engaging one-day organization improvement workshop designed for all levels in the organization.
With companies scrambling to adapt to a changing economy, managers need to be able to hold skillful, timely, difficult conversations.
Learn how to facilitate productive team meetings—both large and small— using facilitation techniques like brainstorming, multi-voting, selection grid and contingency diagrams.
Great for manager and employees at all levels who need to positively influence people who they do not always have authority over.
Plan, prepare and deliver high impact presentations that grab and hold your audience's attention.
Emotional intelligence plays a key role in the workplace. Learn how to draw upon the intellectual capital of your emotions to improve productivity and increase your effectiveness.